Light the candles,
pour the wine,
open a new book,
and the journey continues...
Presenting Books & Bottles Volume 2, Exclusively from Francis Ford Coppola Winery and Tall Poppy Writers.
A seasonal gift box featuring exclusive content — themed recipes, the perfect playlist, and just the right wine & book pairing.
Perfect for wine enthusiasts, book lovers, and book club hosts who appreciate a
book club

in a

box

.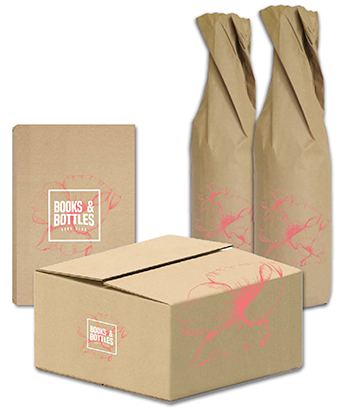 Purchase
---
ABOUT THE WINES

95 points (Platinum)
2017 Critics Challenge
International Wine & Spirits Competition
Director's Chardonnay
Our Director's Chardonnay is sourced from vineyards throughout Sonoma County, representing a range of climates, soil profiles, and clonal selections. This diversity yields a complex and intriguing wine and allows for nuances in blending. Our fruit is harvested in the early morning hours and whole-cluster pressed. A large percentage of the wine is then barrel fermented to achieve richness and bring out notes of vanilla and spice. The remaining wine is fermented in stainless steel for a touch of vibrant acidity, which helps create a beautiful balance. The wine also undergoes partial malolactic fermentation for a creamy mouthfeel. By blending fruit grown in different locations, we get a wine that offers great dimension and complexity. This year's warm vintage produced a very fragrant and juicy Chardonnay, which bestows an exotic perfume of melon, fig, tangerine, and plumeria flowers followed by succulent flavors of peaches, pineapple, and spices that fold into a butterscotch finish.

92 points (Gold)
2016 Sommelier Challenge
International Wine & Spirits Competition
Diamond Collection Red Blend
Inspired by Scarlet O'Hara of Gone With the Wind, a cinematic masterpiece, a story of hope, survival, and love that transcends life's most tumultuous events. Her role, at the center of it all, a complicated heroine with a rebellious personality, a woman who left such a lasting impression on audiences that she became an American icon. Like its namesake, our Scarlet Label Red Blend is complex, tempestuous, and alluring. It has all the sophistication and refinement of Scarlet O'Hara, but a bold presence and rich, spicy nuances that make it anything but demure. Using the very best fruit of the vintage from our favorite Napa, Sonoma, Lodi, and El Dorado vineyards we select the top lots from these appellations—those showing the most complexity and character—and blend them together. Made from a blend of Zinfandel, Syrah, Petite Sirah, Cabernet Sauvignon, and Merlot, this wine offers true distinction. That's what makes Scarlet Label Diamond Collection Red Blend poised to be another classic, just like the Scarlet it is named after.