Light the candles,
pour the wine,
open a book,
and start your journey.
Taste another world with the new Books & Bottles PACKAGE, exclusively from Francis Ford Coppola Winery & Tall Poppy Writers.
Enjoy themed recipes, the perfect playlist, and wine/book pairings, available seasonally.
Designed for
WINE

and

BOOK

enthusiasts and hosts who want to design the perfect book club night!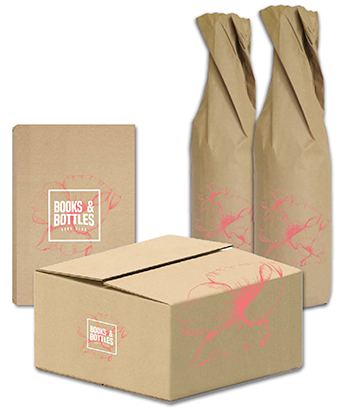 Purchase
---
ABOUT THE WINES
Our Rosso & Bianco wines have always been very special to us. Not only do they pay tribute to our family's Italian heritage, they're some of the first wines we ever created. The care that goes into crafting them offers unparalleled quality at an unbeatable price.

rosso & bianco pinot grigio
Rosso & Bianco Pinot Grigio is a light, refreshing white wine that's versatile enough for any occasion. From party appetizers and lunch with friends to seafood and shellfish dishes, this Pinot Grigio is a wonderful pairing wine that's equally delightful when enjoyed by itself.
rosso & bianco rosso
When it comes to Rosso, the brand's flagship wine, we strive to bring you a blend that reflects the kind of homemade "comfort" wines Francis Ford Coppola recalls his family making. Our Rosso offers rich, juicy flavors of berries, cherries, and an edge of spice. With medium weight and a velvety palate, this highly versatile red blend delivers robust character from supple tannins and lightly toasted oak. This wine is a perfect pairing with hearty dishes such as braised beef, grilled lamb chops, and cheesy pasta dishes.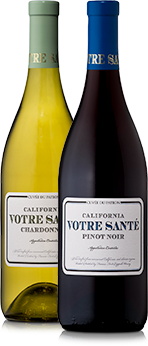 votre santé chardonnay
Votre Santé Chardonnay has the bright aromas and flavors of pear, peach, quince, and honeysuckle. The wine also reveals an appealing minerality that harkens back to Burgundy. Notes of vanilla and nutmeg from oak aging balance the complex varietal character. Enjoy with everything from savory crêpes to mac and cheese. Chardonnay thrives in cool climates like those found in its native Burgundy. For Votre Santé, we look to vineyards tucked away in the foothills of California's dramatic mountains and intimate river valleys, in close proximity to the chilly Pacific waters. This is "the other California," where fog creeps in and tempers the region's famous sunny weather.
votre santé pinot noir
Votre Santé Pinot Noir has aromas of raspberry and boysenberry, with delicate floral notes of acacia and rose petal. Juicy black cherry and plum character, accented with tea leaves and oak, round out the palate and carry over the long, complex finish. The wine also reveals an appealing hint of minerality that hearkens back to Burgundy. Enjoy with everything from boeuf bourguignon to Niman Ranch burgers. Pinot Noir thrives in cool climates like those found in its native Burgundy. Cool conditions throughout the Lodi Delta, Mendocino, Monterey, and Sierra Foothills appellations give us Pinot Noir wines of aromatic red fruit character, balanced acidity, and minerality.